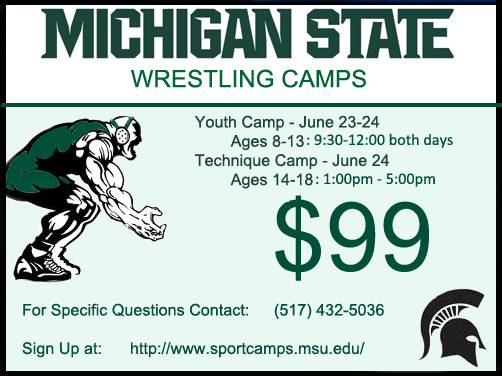 Are you looking to add a summer wrestling camp to your schedule this June?
Michigan State Wrestling is proud to help all wrestlers by getting workouts with as many people as possible. They are always inviting people over and never shy away from an extra workout. This consistent effort is what makes the gains when that final whistle blows.
It's important to wrestle with different people, and that is why we are making the push to have our wrestlers attend a few camps this summer. This is a push to get them continually focusing on their craft, and we support anyone doing the same.
It doesn't matter where you are at in your own personal development, everyone could always make measurable progress in reasonable time.
Come make some progress this summer at Michigan State Wrestling Camp!
For questions, contact Camp Director, Sam Wendland at sgwendland@ath.msu.edu